The Mountain and Santa Claus - Kananaskis
CURRENT FLOWS - KANANASKIS
Warning: Kan flows are now running 24 hrs a day due to run-off season. The flows may increase substantially and without warning. New, unmarked hazards may appear. Hazards can include trees floating downstream, new rocks downstream of the wave and more. Please review the area for hazards and report any hazards you notice. Not all hazards will be posted here.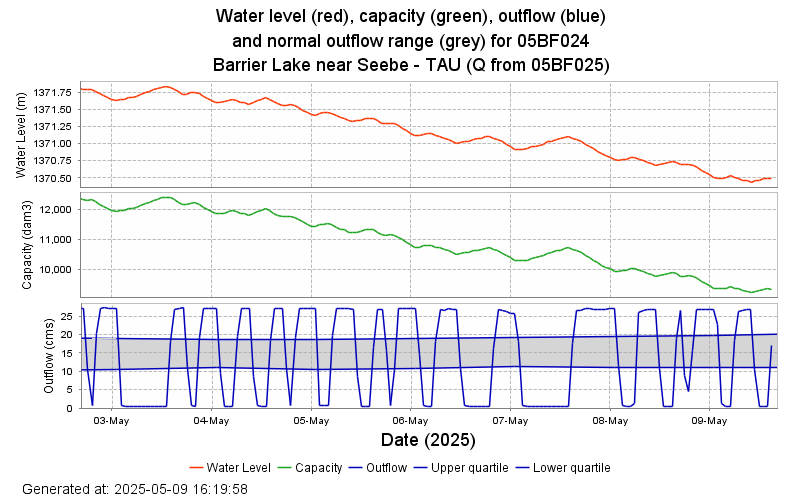 FLOW FORECAST - KANANASKIS

How to read the graphs: Left side numbers are in cubic meters per second (cms). Bottom numbers are the hour in the day.
Flows changes take 30 minutes to reach the Mountain. Updates every 5 minutes. Forecasting errors are due to Transalta operational requirements.
Mid/late summer and fall flows are normally two hours per day due to Transalta refilling reservoirs.

NB: The left numbers on the graph sometimes start above zero. If the left numbers on the graph start at 30 cms and there is no column it means the forecast for that hour is 30 cms.
10th Street Wave & HARVIE PASSAGE - CALGARY
WAVE CAMERA - 10TH STREET WAVE - CALGARY
Picture updates once a day during winter.
CURRENT FLOWS - 10TH STREET WAVE - CALGARY
Warning: High flows can create new hazards such as strainers, debris coming downstream and more. Watch for new hazards.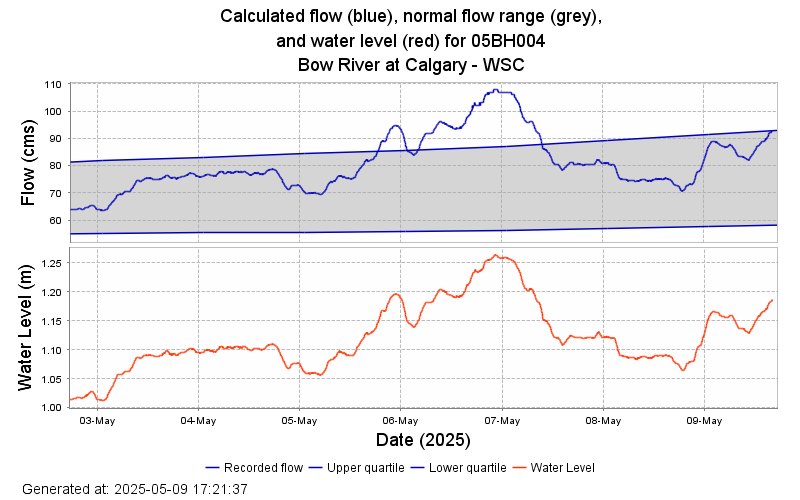 FLOW FORECAST - 10TH STREET WAVE
Flow forecast updates for the Bow are irregular but normally update on Monday, Wednesday and Friday.
Bearspaw is for 10th Street Wave.
WEATHER - 10TH STREET WAVE - CALGARY